Nanny Care – Lessons Through Cartoons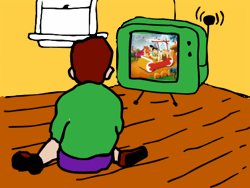 Sometimes it can be difficult to get children to listen to what we are trying to teach them.  In these cases, it can be really effective to try and use different types of media to reach them.  One possible way to teach them the lessons you have in mind is to utilize cartoon shows.  Yes, several of them actually do teach good values (clearly not even close to all of them though).  If you are struggling with getting a child to understand a specific concept you can use the guides below to give you some ideas as to which cartoon characters you might want to show them.  We will keep adding more characters to our list over time so if you have any suggestions, please let us know.
Classic Cartoon Characters
Most of us grew up loving the Flinstones, the Jetsons, and other classic cartoons.  It might surprise you but the classic cartoons are still great today and kids love them (they are new to them).  Here are some classic cartoon characters:
Disney Cartoon Characters
Few can argue how much of an impact Walt Disney has had on cartoons effectively making the industry what it is today with classic characters and really strong family values.  There are tons of Disney characters discuss, here is the beginning of our list:
Popular Cartoon Characters
There are a bunch of great cartoons that came about more recently and they also have some interesting things to offer our kids.  Plus, they are already watching them, so it's best for us to know these characters well:
We strongly encourage nannies and families to get creative with how they use the TV and Internet to offer kids ways to learn that are fun and simply effective.  We know some of you might shriek in horror at the thought of using TV, but in moderation we really do believe that it is VERY effective.  The key is to use them in moderation.
DIY & Sign up Online
We have partnered with eNannySource to help you search for the perfect nanny in your area in addition to our other services.
Enter your zipcode to get started:
National Nannies History