10 Lessons Kids can Learn from Donald Duck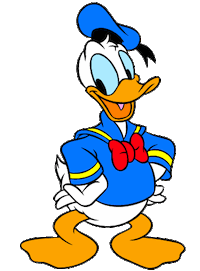 Donald Duck is one of Disney's most popular characters. Donald is always getting into trouble, and he is always on one adventure or another. There is a lot to be learned from this duck. Here are a few lessons.
Enunciate – Let's face it, it is difficult for most people to understand Donald. He has a lot to say, but trying to understand him leaves a lot of people in the dark. Children who learn to speak clearly will do much better in life than those who don't.
Pay attention to what you are doing – Donald is another character who often begins a project but doesn't actually pay attention to what he is doing. There are usually penalties to pay for his lack of forethought.
Watch your temper –Donald is known for his terrible temper. It doesn't take much to set him off, and it almost always gets him in trouble. This is one lesson that is beneficial for kids to learn early in life. Temper tantrums can land you in more trouble that you think.
Don't be jealous – In some of the short films starring Donald Duck, he gets in situations where he's jealous of Daisy. Being jealous is not a pleasant trait, and these films show how it can have negative consequences. In real life, jealousy can ruin lives, so teaching kids early how destructive it can be is advisable.
Make good decisions – Sometimes Donald makes poor choices, and he ends up regretting them, like the time he traded Boo Boo Chicken for some magic beans. Help your kids to see the importance of making smart choices.
Take responsibility for your actions – There are occasions when Donald makes lousy decisions and doesn't take responsibility. At these times, he can wind up in some pretty dire situations. There are also times when he does take responsibility and his friends gladly rally around him. Teaching kids to be responsible for their actions is vital.
Be a faithful friend – Donald gets in trouble and sometimes he can be underhanded, but when you see him in Mickey's Clubhouse, most of the time he is a loyal friend. Sometimes children need to be taught what makes a true friend and how to be one.
Apologize when you need to – Sometimes Donald's actions have a negative affect on his friends. Sometimes he gets extremely defensive and makes a bad situation worse. Then again, there are times when he apologizes for the error of his ways. It can be difficult to admit when you are wrong and offer apologies, but that is better then getting defensive and dig yourself into a hole.
Always see the possibilities – One thing that Donald unquestionably has going for him is that he sees possibilities all the time. He is always trying something new, and whether he is successful or not doesn't seem to matter much to him. It doesn't keep him down at all; nor does it keep him from trying something new in the future.
Persevere – Throughout Donald's courtship of Daisy, he has had his ups and downs, but he genuinely likes her. He continues to try to win her affections. If there is something that is truly important to you and you honestly want it, then go after it.
Digging out the lessons to be learned from different characters can be fun and rewarding. Watching shows with your kids and discussing the various lessons that present themselves adds meaning to the time you spend with them. And who knows? They might actually learn some valuable lessons.
DIY & Sign up Online
We have partnered with eNannySource to help you search for the perfect nanny in your area in addition to our other services.
Enter your zipcode to get started:
National Nannies History