← 10 of the Most Hated Cartoon Characters by Moms of All Time | Is Lying to Your Kids About the Tooth Fairy Wrong? →
21 Blogs Making Fun Homemade Mixtures for the Kids to Get Their Hands Into
July 16, 2013

| in Nannies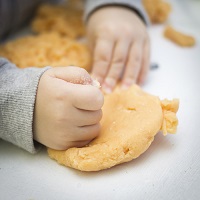 Kids love to get their hands into things, and some children learn much better by doing things rather than just listening to others. This type of learning is called tactile learning. If your child is a tactile learner, you can make your own tactile substances to entertain and teach him. To find recipes for different tactile products you can make at home, take a look at these 21 blog posts.
Playdough
Letting the kids help you mix up a batch of play dough isn't just fun, it's also a great learning experience. You can get them involved in the assembly process by having the kids measure out the ingredients for you; not only will this allow them to help out, it will also teach them basic math skills. There are several different ways to make playdough, and you can create dough with different scents and colors, too.  These seven blog articles will give you the recipes you need to whip up a batch of dough for your kids.
Sand-Like Substances
Playing with sand doesn't have to be reserved for beaches or sandboxes. Sometimes you can play with sand right at home. It may sound like a messy disaster, but the recipes in these seven blog articles require minimal ingredients, are inexpensive to assemble and are simple to clean up.
Goopy Fun
Sometimes you just need to get your hands messy! Mix science with getting a little goopy and you have a fun afternoon project you can do with the kids.  Whether you want to make slime, gak or flubber, you'll find a recipe for each in these seven blog posts           
← 10 of the Most Hated Cartoon Characters by Moms of All Time | Is Lying to Your Kids About the Tooth Fairy Wrong? →
Comments are closed.
DIY & Sign up Online
We have partnered with eNannySource to help you search for the perfect nanny in your area in addition to our other services.
Enter your zipcode to get started:
National Nannies History