← Is Lying to Your Kids About the Tooth Fairy Wrong? | Crazy Things Kids Say About Old People →
21 Blogs with Insightful Tips for Helping Kids Through a Move
July 23, 2013

| in Nannies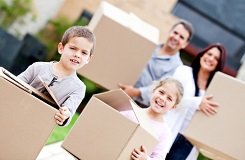 Moving to a new home is an exciting venture and a time for new beginnings, however, it can also be very stressful for you and your kids. To prepare your kids for the stress of the move, be sure to tell them you're moving as soon as possible so they have adequate time to adjust. Involve the kids in the plans for the new house, and try to help them make a positive transition to their new school. Encourage your kids to ask questions, and really listen to them as they voice any fears and concerns they may have about the transition. These 21 blog articles will provide ideas for helping your kids adjust to the idea of moving, as well as get them involved in the moving process and settled into a new school.
Adjusting to the Idea
Once you decide to make a move, you should hold a family meeting to share the news. Talk about the change with enthusiasm, and be sure to highlight all of the wonderful things that will be available at your new location. Check in with your kids regularly to make sure that any questions they may have are addressed. For more tips on helping kids adjust to the move, read these seven blog posts.
Involving Kids in the Move
It's important to involve the kids as much as you can with the move.  Let them pack up their own belongings if they are old enough, and ask them to go through all of their stuff and sort out what can be donated and what needs to be packed.  These seven blog entries will provide more suggestions on getting your kids involved in the move.        
Settling into a New School
Starting a new school is stressful for kids of all ages. After all, no one wants to be the new kid that has no friends.  To avoid this problem, try to facilitate your meetings with other kids before school starts so that your child can see at least one friendly face in the crowd.  Another important thing is to make sure your child knows how to get to school and knows his way around the school.  Look at these seven blog articles to find more ideas for helping your child adjust to his new school.
← Is Lying to Your Kids About the Tooth Fairy Wrong? | Crazy Things Kids Say About Old People →
Comments are closed.
DIY & Sign up Online
We have partnered with eNannySource to help you search for the perfect nanny in your area in addition to our other services.
Enter your zipcode to get started:
National Nannies History