← 10 References Nannies Should Provide to Families | 10 Disadvantages of a Nanny Placement Agency →
10 Terrible but Common Ways to Find a Nanny
October 19, 2011

| in Nannies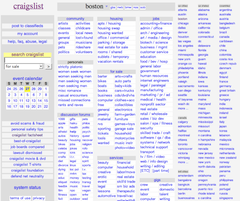 You've probably read about the advantages of using an agency or referral service when searching for a nanny; but have you done any research about how not to hire one? Unfortunately, not all sources are reliable. Although you can occasionally get lucky via some of these methods, overall they are 10 terrible but common ways to find a nanny:
Craigslist – The horror stories are well-documented. Frauds, scams, predators. Of course, the percentages may be miniscule, but it's just so hit-and-miss in the first place to answer anonymous ads that it's just not worth the risk.
Personal Ads – Ditto this method. Most qualified and trustworthy candidates will seek employment through an agency, and reputable agencies seldom if ever take out such ads.
Gut Feelings – Basing your decision on hiring a nanny ought to involve some rigorous screening and research. Don't rely purely on "having a good feeling about her".
Not Checking References – Regardless of the means you use in finding a nanny, it's very important that you check references carefully. An otherwise solid-looking candidate can be using fake or unverifiable ones.
Skipping the Background Check – Everything about her seems to indicate that she's just what you're looking for, so you're sure the rest will all check out. Uh-uh. Don't skimp on this step either. Hire a background service, do your own Google search, check child predator sites.
Not Providing a Precise Job Description – You will save yourself untold hours of searching and screening with this step. Make it clear, right up front, exactly what you're looking for and what the job entails.
Hiring Without a Try-out – Even the seemingly perfect matches don't always work out once the work actually begins. It's always best to give each party the opportunity to get acquainted in real-world circumstances to ensure that you've both made a good choice.
Friend of a Friend – There's nothing wrong with finding a nanny by way of a good, reliable word-of-mouth referral. Just make sure that she really is all that. There could be some reason you need to know, why she's your friend's friend's  former nanny.
In a Hurry – It's understandable that you'd like to get this done as quickly as possible. You may not have the luxury of making an exhaustive search. Advance planning, and some help from an agency, are highly advisable.
Too Wide a Net – At the other end of the spectrum, you could be looking to far away for potential candidates. Consider the logistics and costs involved if you were to hire a nanny who lives more than a short drive from your home.
← 10 References Nannies Should Provide to Families | 10 Disadvantages of a Nanny Placement Agency →
Comments are closed.
DIY & Sign up Online
We have partnered with eNannySource to help you search for the perfect nanny in your area in addition to our other services.
Enter your zipcode to get started:
National Nannies History