← 10 Ways People Typically Find a Nanny Agency | 10 Terrible but Common Ways to Find a Nanny →
10 References Nannies Should Provide to Families
October 4, 2011

| in Nannies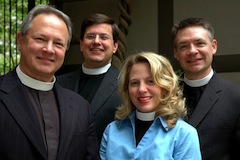 When screening nanny candidates, it is strongly recommended that you obtain as many solid references as possible. It is an invaluable resource to have contact information available in order to establish the competency and reliability of your prospective nanny. Let's look at 10 references that nannies should provide to families:
Previous Employers – You'll want to contact families or businesses for whom your nanny candidate has worked in the past. They can provide important insight regarding her work experience.
Teachers – Your nanny's previous teachers, instructors or professors can also offer some information on her aptitude, punctuality, and knowledge.
Clergy – Can give you a more personal sense of your nanny, what sort of person she is outside the workplace; and her values.
Landlords – Financial responsibility, cleanliness, and ability to maintain a long-term contract (lease) are valuable insights as well.
Creditors – Apart from a credit report, a candidate can also list specific creditors with whom she has had an ongoing financial commitment. Such references go a long way in establishing fiscal responsibility and maturity. She will, after all, be handling family funds.
Mentors – If your nanny has done an internship, or worked as an apprentice in another field, or as a caregiver, her mentor(s) can be a wonderful reference.
Club/Organization Leaders – If your nanny is a member of any organizations or groups, it would be good to find out what her peers have to say about her.
Parents – A nanny candidate with minimal previous work experience might need to use more immediate and personal references. Objectivity could be an issue, so use your best judgment when contacting family members.
Host Family – If your nanny candidate is a recent immigrant or has stayed with a host family prior to applying for your job, you can contact them for a reference as well.
Personal References – Friends, neighbors and extended family members can help round out your nanny's life story. Once all the pieces are in place, you should be able to see the picture plainly enough.
← 10 Ways People Typically Find a Nanny Agency | 10 Terrible but Common Ways to Find a Nanny →
Comments are closed.
DIY & Sign up Online
We have partnered with eNannySource to help you search for the perfect nanny in your area in addition to our other services.
Enter your zipcode to get started:
National Nannies History