← 10 Terrible but Common Ways to Find a Nanny | 10 Reasons to Administer a Drug Test to a Nanny →
10 Disadvantages of a Nanny Placement Agency
November 4, 2011

| in Nannies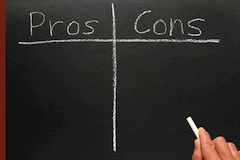 In past segments, we've discussed the advantages of hiring a nanny through a placement agency. Are there any reasons why taking that route would be problematic for some? Today we'll look at 10 disadvantages of a nanny placement agency:
Cost – A good nanny agency will do a lot of the heavy lifting for you during your nanny search, which is worth a lot. And you should expect to pay a lot in most cases.
Limited Labor Pool – When contracting with an agency, you are gaining access to a finite number of candidates from that agency's pool of nannies. This restricts your options when searching for a good match.
Control – For some employers, surrendering any amount of control during the hiring process can be a challenge, particularly since the goal is to find someone who will care for their child.
Higher Salary – Nannies who are placed through an agency tend to command higher salaries than those who contract independently.
Learning Curve – If you use a placement agency to do much of the hiring process for you, then you never really learn how to do it yourself. For some employers, this can be an issue.
Long-term Obligation – Ideally, you and your nanny will be committed to a long working relationship. However, circumstances can change. Parents may find themselves out of work, or with reduced hours, meaning less income and more time at home. In such cases, ending a nanny's employment can still obligate the family financially, to the agency that placed her.
Less Latitude – When hiring through an agency, you will be in essence agreeing to negotiating within certain parameters with your pre-screened applicants.
Personal Touch – Nanny agencies are pros at screening nanny candidates, conducting background checks and filling out forms. None of that insures that the candidates you ultimately meet will have the kind of personality and chemistry that you desire in your child's caregiver.
Schedule – Depending on your needs, the hiring process may seem interminably long, or somewhat rushed. An agency will do a lot of work for you, but you may not have the time to wait; or you may want to meet more candidates even after your agency has done their job.
Employment Status – Working with an agency, in many cases, means your relationship is that of a client, and the nanny is an independent contractor, employed by the agency. The difference between being a direct employer, or a client, can have some bearing on the family's taxes, rights and obligations as an employer, etc.
← 10 Terrible but Common Ways to Find a Nanny | 10 Reasons to Administer a Drug Test to a Nanny →
Comments are closed.
DIY & Sign up Online
We have partnered with eNannySource to help you search for the perfect nanny in your area in addition to our other services.
Enter your zipcode to get started:
National Nannies History