← 10 Ways to Figure Out What You are Looking For in a Nanny | 10 Reasons to Require a Nanny to be CPR Certified →
10 Signs a Nanny is a Good Match for a Family
January 24, 2012

| in Nannies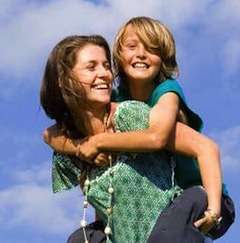 Finding the right nanny involves a lot of research, time and effort; but there are still no guarantees when all that work is done that you'll both hit it off. Some things you just have to find out the old-fashioned way, by spending time together, and getting a feel for one another. So how, and when, do you know it's working? Here are 10 signs that a nanny is a good match for a family
The Kids Like Her – This is about as essential as it gets in finding a match. If your nanny is a hit with the kids, you're more than halfway home.
The Kids Listen to Her – As great as it is to be popular, earning the respect of your kids is essential too. If they respond to her, so much the better.
You Like Her – Your personalities, philosophies about child care, and even your senses of humor all seem to click. Accent on the first two, with the latter being a bonus, you bond readily.
She Has All the Right Skills – If you've laid out a good job description as a template, you've given yourself a better chance of finding a nanny who hits all the bases.
Comfortable in the Home – Seeing how your nanny will be a family member in many ways, as well as an employee, it's important that she feel at home in her work environment.
Familiar with the Local Area – Chances are your nanny will be transporting the children, taking trips to the park, shopping, etc. It's important that she know her way around your neighborhood and surrounding area.
Gets Along with Family – Apart from the children, does she have a good rapport with the est of the family; neighbors and extended family members with whom she will be interacting?
No Language or Cultural Barriers – Few are the families who have the luxury of getting a non-native nanny acclimated to the environment without some basic necessities. Of course there's no reason that such obstacles would preclude a nanny from being a great match in time. However, if you aren't able to accommodate that learning curve, then you'll have a tough road ahead.
She is Comfortable with the Work Hours – This is a huge obstacle to overcome in many nanny assignments. It more or less defines the job in a lot of ways. If the hours you need her to work don't jibe with her schedule for any reason, it just won't work.
Everything Checks Out – All the touchy-feely factors have fallen into place; so it's good to know that the background check and references did as well. Looks like you've got yourselves a nanny, folks.
← 10 Ways to Figure Out What You are Looking For in a Nanny | 10 Reasons to Require a Nanny to be CPR Certified →
Comments are closed.
DIY & Sign up Online
We have partnered with eNannySource to help you search for the perfect nanny in your area in addition to our other services.
Enter your zipcode to get started:
National Nannies History