← 10 Signs a Nanny is a Good Match for a Family | 10 Sounds That Almost Always Frighten Infants →
10 Reasons to Require a Nanny to be CPR Certified
February 1, 2012

| in Nannies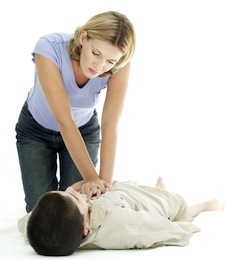 All nanny jobs are different, so the qualifications for assignment will vary accordingly. A family that has put together a good job description to use when screening candidates will have a good idea of what skill set their nanny will need. One such skill that may or may not be a requirement is CPR certification. In this column, we'll share 10 reasons to require a nanny to be CPR certified:
Safety – The most obvious reason is that CPR certification means your caregiver is capable of handling a coronary emergency. This one factor can be the difference between life and death for a family member.
Insurance Discounts – Some insurance providers offer incentives for such training. Ask your agent if you can get a discount on your premiums for having a live-n CPR-certified caregiver.
Career Indicator – A nanny who takes the time and effort to get CPR certified is more likely to stay in the caregiver career. This is an important consideration, as turnover in this field can be high, and costly for employers.
Peace of Mind – It's difficult to leave your kids in someone else's care, so anything that helps to set your mind at ease is a welcome measure.
Geography – If your home is a considerable distance from the nearest emergency room or paramedics, CPR certification is invaluable.
Heredity/Genetics – For a family with a history of heart disease, this could be a deal-breaker. Having someone in the home who can respond decisively in a medical emergency is of huge importance.
No One in Family is Certified – The nanny may be the only member of the household who is certified, which could place greater importance on hiring a caregiver who fills that need.
Compliance – Some municipalities make CPR certification a requirement for employment as a caregiver. In that case, it's non-negotiable.
Child with Heart Condition – If one of the children under a nanny's care has a congenital heart disease, or other heart-related issue, this is going to be a requirement for employment with the family.
Value-Added – As a condition for a pay increase or additional benefits, you can negotiate CPR  certification as a trade-off.
← 10 Signs a Nanny is a Good Match for a Family | 10 Sounds That Almost Always Frighten Infants →
Comments are closed.
DIY & Sign up Online
We have partnered with eNannySource to help you search for the perfect nanny in your area in addition to our other services.
Enter your zipcode to get started:
National Nannies History