← 10 Ways to Test the Care Skills of a Nanny | 10 Reasons to Require a Nanny to Have a Car →
10 Reasons to Look for a Physically Fit Nanny
December 18, 2011

| in Nannies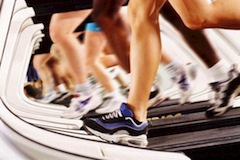 An important consideration when searching for a nanny is her physical fitness. The rigors of child care, especially for a larger family, can be fairly exhausting work for someone who isn't physically up to the task. Here's a list of 10 reasons to look for a physically fit nanny:
As mentioned,, you want to be certain that your nanny is able to handle the physical demands of the job. There will be a lot of lifting, carrying, standing and walking involved.
Physical fitness is important when hiring a nanny because a good match is a valuable commodity, and you'd like her to stick around as long as possible.
Your children's safety also depends on your nanny's physical well-being. When she's fit and capable, your children are in better hands.
As part of the job, your nanny is likely to be driving your family vehicle, and transporting your children. If she is physically fit, she is less likely to drive fatigued, or suffer a stroke or heart attack behind the wheel.
Your health insurance coverage for her will be much less expensive if your nanny maintains good health. This is another reason why many families offer health club memberships as a perk for their nannies.
A physically fit nanny would provide a good example and role model for your own kids. You want them to be physically active and healthy, so it makes sense to put them in the care of someone who shares those qualities.
Your nanny will be spending long periods alone with your children. With no other adults around, it's important that your nanny be able to sustain a rigorous schedule and not be at risk of needing medical attention.
Your home is in a remote location, and there are no medical facilities nearby. In such circumstances, the physical fitness of your nanny has greater importance.
Your home has multiple floors, is large, has a lot of property, stairs, or hilly terrain. These factors demand good fitness of your caregiver.
Your nanny will be looking after several high-energy children every day. That's a lot of physical demand for anyone. Make sure she's in top shape before you release the hounds.
← 10 Ways to Test the Care Skills of a Nanny | 10 Reasons to Require a Nanny to Have a Car →
Comments are closed.
DIY & Sign up Online
We have partnered with eNannySource to help you search for the perfect nanny in your area in addition to our other services.
Enter your zipcode to get started:
National Nannies History