← 24 Blog Extolling the Virtues of Drinking Tea for Your Health | 30 Blogs with the Best Tips on Helping Your Child Prepare for Standardized Testing →
What to Pack for Your Family Vacation
June 20, 2013

| in Nannies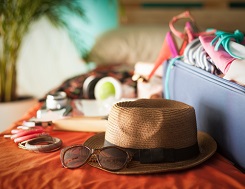 Getting away from the hustle and bustle of everyday life to relax for a week or so in an exciting locale is the dream that keeps many families going during the school year. Unless you're properly prepared, though, your dream vacation can quickly become a nightmare that's just as stressful as your daily life, if not more so. Before you pile into that car or board that plane, you'll want to make sure that you have everything you need on hand. These tips can help you ensure you do a great job packing, and that no crucial items are left behind.
Remember the Basics
Some of the items you need to pack will change, depending on the planned destination and the activities you have in mind after your arrival. Others are fairly standard, though, and will need to be on almost every packing list. Things like toiletries, undergarments, grooming products and the likes are a given, but they're also among the most commonly forgotten. Whether you're heading to the beach or the mountains, make sure that you have plenty of sunblock or are prepared to purchase some when you arrive; even in cloudy locations, the sun's rays can be damaging to the skin of kids and adults alike.
Consider Packing Versus Purchasing
If you're going to be away from home for a month and your bag space is limited, you may want to consider saving room for essential items by leaving those you can buy after arrival out of the mix. Things like shampoo, soap and toothpaste are relatively inexpensive and can take up a significant amount of room in your bag. They can also make quite a mess if their bottles break or are somehow opened in transit, and they may be subject to confusing TSA guidelines if you're planning to fly. Cut out the potential for mess, lost space and confiscation by grabbing a few travel-sized bottles of those toiletries to have in your carry-on in case of an emergency, but plan to buy full-sized packages after you arrive.
Pack for Your Destination
It's easy to get so carried away by vacation planning that you purchase or impulsively pack items that aren't really necessary for the destination you've chosen. A cute sun dress and sandals are awesome for beach vacations, but may be less appropriate if you're traveling deep into the wilderness for a hiking or camping adventure. Make sure that everything in your bag is appropriate for the trip, otherwise you'll take up valuable space with items that are ultimately only in your way.
Make Room for Crucial Documents
If you're traveling out of the country, it's a no-brainer that you'll need to have passports on hand for each member of the family. When you're traveling domestically, however, necessary documents aren't always so obvious. Be sure that you have all of the information relevant to your health insurance account to ensure that a sick or injured member of the family can be quickly and efficiently treated while you're traveling. Adults will need a state-issued form of photo identification to navigate TSA checkpoints in an airport, even for domestic flights. It's wise to have copies of kids' birth certificates with you as well. Kids' passports are ideal choices for identification, even if you're not leaving the country. If you'll be traveling with a child that's not your own without their parents, make sure that you have signed travel consent forms to ensure that you're able to quickly and easily navigate airport security.
Diversions, Diversions, Diversions
No matter where you're traveling or the length of the trip, it's essential to your sanity and emotional wellbeing that all kids in tow have access to diversions that will help to stave off misbehavior and complaints borne of boredom. Even if you have a strict screen-time policy, travel days may be an exception you'll want to consider. Kids can be difficult enough to travel with when they're jovial and excited. A bored, cranky kid is a nightmare, so make sure that you pack plenty of books, toys, games and other items to keep them occupied and that they're somewhere that's relatively accessible.
It's smart to pack a few days in advance of your trip, and to make a habit of checking your bags before departure to ensure that you have everything you need. Making a detailed list and physically checking each item off as it's packed can help to ensure that nothing is overlooked.
← 24 Blog Extolling the Virtues of Drinking Tea for Your Health | 30 Blogs with the Best Tips on Helping Your Child Prepare for Standardized Testing →
Comments are closed.
DIY & Sign up Online
We have partnered with eNannySource to help you search for the perfect nanny in your area in addition to our other services.
Enter your zipcode to get started:
National Nannies History