← Ways Nannies Can Save on Healthcare | 10 Ways Cartoons Help Kids Learn About Different Cultures →
10 Ways To Recognize Your Nanny During National Nanny Recognition Week
August 11, 2012

| in Nannies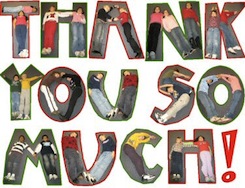 Since 1998 National Nanny Recognition Week has been recognizing and celebrating nannies during the last week of September. This is a great opportunity to do something special for your nanny and let her know you appreciate her hard work and dedication. She'll be touched by your efforts and know that the wonderful care she provides doesn't' go unnoticed.
Help your child make a special, hand crafted gift for her. There are quick and easy gifts you can create with your child to give to your nanny. A simple card, a handprint mug or a jeweled stepping stone are all things your nanny will treasure for years. It's also a fun project for your child and gives her the opportunity to say thank you in her own special way. Your child can complete the project by using crayons, stickers or paint to decorate craft paper to create custom wrapping paper.
Give her a personalized, framed picture of her with your child. Even in this digital age, pictures are one of the best keepsakes around. There are lots of places where you can get a frame personalized with the nanny's and child's name. Add a favorite picture and you've got the perfect appreciation gift. You can also use a college frame and include pictures of all your children or your child at different ages.
Give her an extra paid day off. Your nanny works hard and it's a good bet she doesn't take much extra time off. Giving her the chance to sleep in and then spend the rest of the day doing whatever she likes is a great surprise. It shows you understand her busy schedule and want her to take some time out to enjoy what she loves to do.
Send her to the spa for a day of relaxation and beauty. Who doesn't love a invigorating facial, a relaxing massage or a new cut and color? Nannies often take care of everyone else before they take care of themselves. This is a way to help your nanny enjoy some wonderful self-care and let someone pamper her for the day.
Send her flowers. Flowers are an instant smile maker. She'll think of you each time she walks by and enjoys the scent and sight of bouquet. She'll also be reminded of the special place she holds with your family.
Have a family dinner together. Your nanny probably doesn't have the chance to spend time with your family outside of work or kid functions. Take her out to her favorite local restaurant and connect with her in a way that shows you really value her as a person and a caregiver.
Write a thank you letter. Personal letter writing doesn't have to be a lost art. Put pen to paper and let her know the many ways she contributes to your family. List some of the things she's done that have meant a lot to you and your child. Knowing you took the time to write the letter will mean just as much as the sentiments offered.
Give her a special gift she really wants. Does your nanny really want to go to an upcoming concert? Has she been talking about trying out a new restaurant? Is she excited about the latest crafting tool? Giving her something she really wants lets her know that you are paying attention and you want to do something special for her.
Give her a membership to the International Nanny Association. A membership is this childcare organization will give your nanny benefits that last all year long. She'll have access to the members only portion of their website and she'll receive discounts on professional development tools and resources, like the Annual Conference.
Send her to a professional development conference. Your nanny wants to do the best job possible. One way to help her do that and let her know you see her as a true childcare professional is to send her to a childcare conference. There are lots of local, regional and national opportunities for her to connect with other caregivers, learn new things and get reenergized about the work she does.
Having a quality nanny is truly a gift to your family. She not only provides great care to your children, she supports you and your family in so many other ways. National Nanny Appreciation Week is the perfect opportunity to do something special for her and let her know you appreciate her all year long. Your child will love doing something special for the person that takes such good care of him.
← Ways Nannies Can Save on Healthcare | 10 Ways Cartoons Help Kids Learn About Different Cultures →
Comments are closed.
DIY & Sign up Online
We have partnered with eNannySource to help you search for the perfect nanny in your area in addition to our other services.
Enter your zipcode to get started:
National Nannies History