← How to Hire a Nanny without Using an Agency | 5 Fun Poses for this Year's Family Christmas Photo →
10 Tips for Parents Hiring a Nanny Online
November 15, 2012

| in Nannies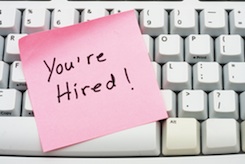 Online nanny jobs sites are an inexpensive and effective way to find a nanny, and both nannies and nanny employers alike are utilizing them more frequently these days. Here are 10 tips that will help make your online search more successful.
Understand how the online hiring process works. Online nanny job sites are often referred to as "online nanny agencies", however, online sites don't do any of the legwork associated with matching or screening a nanny, which is the primary job of a nanny placement agency. Online site do offer parents a variety of tools to help them do the matching and screening themselves. By understanding exactly what an online job site can do for you and what you need to do for yourself, you'll be much better prepared to successfully navigate the site and the nanny hiring process.
Create a clear, detailed job description. Before you begin your search, make sure you have a clear vision of what your needs are. Outline the hours you need coverage, list the tasks and responsibilities you want your nanny to take on, and detail any unique needs you have, like extensive travel, help with a child with special needs, or cooking for a Kosher household.
Know what you want in a nanny. Obviously you want a nanny that can fulfill your job requirements, but what else is important to you? Are you looking for a nanny with at least 5 years of experience? Do you want someone who has a lot of creativity? Do you want a caregiver that has a strong background in education? Before you can effectively find the nanny you want, you have to know exactly what you're looking for.
Develop a systematic approach to reviewing and responding to nannies that contact you. Parents are often surprised by the high number of nannies that respond to their family profile. If you're not prepared with a plan of action, it's easy to get overwhelmed. By knowing what you want in a nanny, you'll be able to quickly scan candidates and locate the ones who have a real hiring possibility. Follow-up immediately with those candidates and let them know you're interested in learning more about them.  For the candidates that don't meet your requirements, make sure to let them know. If the site you're using offers an automatic "reject" option, take advantage of it. This is a quick, easy and considerate way to let applicants know they don't match what you're looking for. If your site doesn't offer that option, have a statement already prepared that you can simply cut, paste and email.
Protect your family's privacy. Overall, nanny job sites are safe places. However, you also need to remember that it's still an online forum, and during the initial stages you really don't know who's on the other end of the private messages and emails. Take the same precautions you'd take in any other online forum, like using the blind messaging system and meeting for the first time in a public place, that way you can protect your family's privacy and security.
Conduct a comprehensive interview. Once you've narrowed your search down to a few standout candidates, invest the time needed to do an in-depth interview. Start with a shorter phone interview, then move onto a longer face-to-face interview. Make sure you prepare for the interview and know how to get to the information that's most important to you. Before you make a final decision, it's a good idea to bring the nanny in for a working interview, that way you can see her in action.
Do an in-depth reference check. After the interview, check all the nanny's references. Talk with former employers, teachers, clergy and other professional references. Ask open ended questions rather than simple yes or no questions. Ask about her experience, her work ethic, her personality and the type of job she does best in. Don't be afraid to ask the tough questions. This is the time to get the full picture.
Put the candidate through a thorough background check. Before you welcome a nanny into your home make sure you do a Social Security Number verification, check her criminal history, her driving record and any other checks you feel are necessary.
Don't stop your search until you and the nanny have a signed contract in place. It's easy to connect with a nanny early in the process and feel like you've found "the one". And when she feels the same way, both parents and nannies often stop looking. However, sometimes as employer and employee get to know each other better, something comes up that will torpedo the connection. So keep looking and pursuing matching candidates until you've gotten through the interview, the references and the contract negotiations. Of course you want to be honest about where you are in the process but you also want to avoid putting all your eggs into one basket.
Trust your instincts. It's important to follow a process when hiring a nanny to make sure you cover all your bases. However when deciding on the right nanny for your family, follow your instincts. If something seems off, if something doesn't sit well with you listen to that. This is a very personal decision and it's key that you're fully comfortable with your new nanny.
Using an online job site can be a great path to your next nanny. Create a plan of action, follow your instincts, gather as much information as possible to make an educated and informed hiring decision and hire the right nanny for your family.
← How to Hire a Nanny without Using an Agency | 5 Fun Poses for this Year's Family Christmas Photo →
Comments are closed.
DIY & Sign up Online
We have partnered with eNannySource to help you search for the perfect nanny in your area in addition to our other services.
Enter your zipcode to get started:
National Nannies History