← Top 5 Tips for Nannies Working with a Placement Agency | How to Be Sure Your Child Behaves on the Bus →
10 of the Best iPhone Apps to Keep Handy for the Kids in Your Life
January 23, 2013

| in Nannies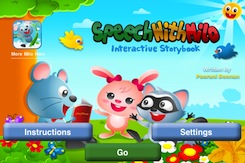 While Apple's powerful iPhone device is so popular that it's almost ubiquitous, it's still a bit on the pricey side for most parents to present as a gift to their children. However, the vast number of kid-friendly apps that are available in the App Store can come in quite handy when you're in the checkout line or in a waiting room. Parents that own iPhone devices and are amenable to the idea of letting their children play with them from time to time may find that these apps are perfect for keeping their little ones entertained.
These kids' apps offer great ways to keep youngsters entertained when you're otherwise occupied, but they're always more fun with a friend! Playing these games together will not only help your children learn how to operate and navigate them more confidently, but also learn new skills with the help of an iPhone and a loving parent. Even if you're making an effort to limit screen time, playing games together on occasion will allow the two of you to spend some enjoyable and exciting quality time together.
← Top 5 Tips for Nannies Working with a Placement Agency | How to Be Sure Your Child Behaves on the Bus →
One Response to 10 of the Best iPhone Apps to Keep Handy for the Kids in Your Life
DIY & Sign up Online
We have partnered with eNannySource to help you search for the perfect nanny in your area in addition to our other services.
Enter your zipcode to get started:
National Nannies History