← 10 Reasons Kids Prefer One Parent Over the Other | 10 Most Often Misdiagnosed Kids Ailments by Parents →
10 Lessons Learned from Classic Disney Movies
March 20, 2012

| in Nannies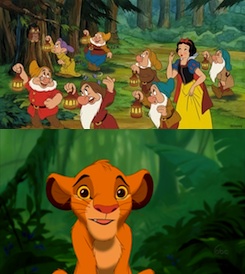 For the most part Disney movies are fun to watch and kids really love them. If one takes the time to look under the surface, however, one will find some valuable life lessons to be learned from these movies. Parents can help their children glean priceless nuggets of wisdom if they take the time to go a little deeper in the story and discuss the life lessons imbedded within. To get you started, here are a few lessons from some of the Disney classics.
Snow White – There are many lessons to be learned through this movie. There is the work ethic of the dwarves and there is the help that Snow White provides for them without being asked. She sees a job that needs to be done and she does it. There is a lot to be said for a person who, out of the kindness of their heart, steps in and helps out.
Cinderella – Everybody wishes they had a fairy godmother to make their tough situations go away. But the lesson to be learned here is that one can continue on and keep a positive attitude despite adversity. Cinderella could have chosen to be a whiner or have a negative attitude. She had plenty of reason to do both. Yet she was obedient, and regardless of the situation, she kept a positive attitude.
Mary Poppins – Such a joyful and colorful movie with a good message about work. Work can be enjoyable. It doesn't have to be drudgery or painful. And the other message that parents may want to take away is that it is good to take time to enjoy your family. Understanding each other is a key to having a loving relationship with each other.
Beauty and the Beast – At least two lessons can be learned from this movie. One is about sacrifice. Beauty gave up everything in order to save her father's life. She loved her father so much that she was willing to live in isolation with a terrible monster so that he could be free. Then with the beast, we see a person with anger management issues. We also see that with patience and understanding on Beauty's part, he was slowly able to get his emotions under control.
Mulan – Here is a story of courage and perseverance. The lesson here is about following your heart and believing in yourself. There are many stories about girls who knew they had a job to do but had to disguise themselves as males in order to get the job done. Throughout history this has been the case. Mulan could be a wonderful jumping off place for you to have a talk with your daughter about her dreams and aspirations. You can persuade her to have the courage to go forward with determination to achieve her goals.
The Lion King – Children need to learn that their actions have consequences. A lot happened when Simba disobeyed his parents. In the end it all turns out okay, but look at all that transpired in the meantime. This is a good movie to use for talking about responsibility and consequences.
Pinocchio – Dear, sweet, little wooden puppet that he is; he teaches a lot about honesty and how much trouble you can get into if you aren't honest. This movie also teaches children to look beyond the now and see what effects their decisions may have on their future.
Pocahontas – In this age of information and disposable everything, it's difficult to appreciate the Earth as a resource and an entity deserving of respect and care. This movie teaches the importance of respecting the earth. Consider watching it around Earth Day, then take the kids out and volunteer to do something to drive the point home.
The Fox and the Hound – There is a difficult lesson to learn from this movie, but it is an important one; it is the lesson about the price of prejudice. Two pups start off as friends, but because they are different and the world says they are supposed to be mortal enemies, their friendship comes to a halt. It doesn't necessarily have to be that way, but it plays out in real life time and time again. It's worth discussing the possibility of what would have been different if they had decided to remain friends despite the pressure against them.
Aladdin – This movie has many lessons also, but one of the major themes is about keeping your word. Aladdin tells the genie that he will save one of his wishes to free the genie; when that time comes, there is a difficult choice to make. Aladdin can either free the genie or use the wish to make his own life comfortable. He chooses to honor his original promise and let the genie go. Wouldn't it be nice if everyone who made promises to do something good for others actually followed through with those promises?
Movie night with the kids can be a lot of fun with pizza and popcorn. It's wonderful to get the family together for some quality time; you can make it even more special by going a little deeper with your kids. You will help them develop their critical thinking skills, and you will be surprised at the things they begin to notice when they watch movies. There are many good lessons to be learned in the world of the cinema both from a positive and negative perspective. Teach you kids to be truly enriched by the movies they watch.
If you found this interesting, we highly recommend that you take a look at how you can use cartoons to help teach your child new lessons and even some core values.
← 10 Reasons Kids Prefer One Parent Over the Other | 10 Most Often Misdiagnosed Kids Ailments by Parents →
One Response to 10 Lessons Learned from Classic Disney Movies
Pingback: The Disney Culture « codimaher
DIY & Sign up Online
We have partnered with eNannySource to help you search for the perfect nanny in your area in addition to our other services.
Enter your zipcode to get started:
National Nannies History