← 5 Practical Topics Nannies and Employers Should Discuss Before the Job Starts | 10 Ways to Manage Kids' Screen Time →
10 iPhone Apps for Busy, Working Moms
October 4, 2012

| in Nannies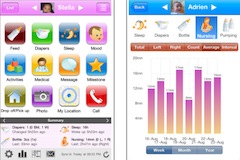 Climbing the corporate ladder and raising a family are both very demanding, full-time jobs. Women who are juggling these two aspects of modern life know just how precious any time-saving tool is, which is why so many use iPhones and the host of applications available in the App Store to shave minutes off of a variety of everyday tasks and capture precious memories. These 10 apps are among the most valuable to working mothers, due to their time-saving and convenient features.
Thanks to the power of Apple's iPhone and the vast array of options in the App Store, working mothers have an almost endless number of time-saving tools at the tips of their fingers. The iTunes App Store also hosts a wide variety of apps directed at children, providing them with a diversion during those times when you're able to surrender your phone in the interest of keeping the peace and staving off boredom.
← 5 Practical Topics Nannies and Employers Should Discuss Before the Job Starts | 10 Ways to Manage Kids' Screen Time →
Comments are closed.
DIY & Sign up Online
We have partnered with eNannySource to help you search for the perfect nanny in your area in addition to our other services.
Enter your zipcode to get started:
National Nannies History