← 10 Sounds That Almost Always Frighten Infants | 10 Reasons Moms Might Run Away from Home →
10 Benefits Employers Can Provide for Parents
February 16, 2012

| in Nannies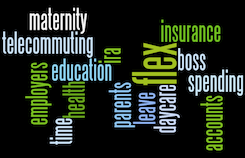 Most jobs in the United States are offered with at least a minimal list of included benefits, such as medical insurance and vacation / paid time off. For parents who work full time, the needs are substantially different and, depending on the employer, those needs aren't always addressed. There are many benefits specifically intended for working parents, and need to be universally available in our opinion. Here is a list of 10 benefits that employers can provide for parents:
Maternity Leave – Time off for having a baby, and all of the inherent preparations thereof, should be available without any adverse career fallout for the expectant mother upon her return to the workforce.
Flexible Spending – Dependent Care – In addition to basic health benefits, some employers offer a flexible spending option where a certain amount is available for otherwise uncovered expenses, or deductibles to cover dependent care.
On-Premises Day Care – This benefit has been widely implemented among Fortune 500 companies and is an idea worth expanding. The expense would be offset through employee retention, reduced absenteeism, and increased productivity.
Subsidized Off-Premises Child Care – When it's necessary for parents to find their own care service, employers can offer compensation to help defray the cost.
Unpaid Leave – FMLA, or the Family and Medical Leave Act requires employers to allow employees up to 12 weeks of unpaid leave per year for personal illness, or the illness of an immediate family member, or for the birth or adoption of a child.
Flexible Schedule – Another option for parents could be working flexible hours. This often helps alleviate the difficulties of coordinating child care or school drop-offs, and doctor's appointments with work.
Telecommuting – Jobs that can be performed at home can make life easier, and less costly, for parents. An added benefit to the company is reduced operating expenses at the workplace.
Job Sharing – A form of part-time employment, in which two or more employees share the work and split the work hours of a single job title, allowing each to work an abbreviated schedule.
In-Home Child Care – Patagonia, a company specializing in outdoor equipment and apparel, maintains a network of trained child-care providers for their employees to choose from, in lieu of using their on-site child care facilities.
Education IRA – In addition to traditional 401(k) plans, some employers include the option of opening an IRA which allows an additional $500 per year, per child to be contributed to it, tax-deferred, for their college expenses.
← 10 Sounds That Almost Always Frighten Infants | 10 Reasons Moms Might Run Away from Home →
Comments are closed.
DIY & Sign up Online
We have partnered with eNannySource to help you search for the perfect nanny in your area in addition to our other services.
Enter your zipcode to get started:
National Nannies History