← 10 Tips for Parents Hiring a Nanny Online | 10 Reptiles That Make Great Pets for Kids →
5 Fun Poses for this Year's Family Christmas Photo
November 27, 2012

| in Nannies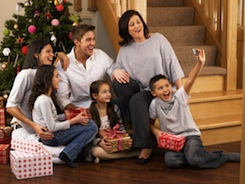 Every year, many families like to take a Christmas photo with their family. Whether they use this photo for their Christmas cards, to place in their scrapbook, or to frame and hang on the wall, it can be challenging to come up with the right outfits to wear, the right location to have the picture taken, and how to differentiate it from past Christmas photos.  Have no fear, Christmas photo pose ideas are here.
Spell something- Ideally you would spell your last name, but sometimes the number of people in your family doesn't match up with the number of letters in your last name.  If you have a short last name and it works out with your family members that's great, but otherwise you can spell out words like: Love, Joy, Peace and Cheer.  Start by creating the letter signs.  You will need one cardboard rectangle for each letter.  Write, adhere or otherwise get the letters on the cardboard.  Find a rustic place to shoot the picture.  Have everyone in the family wear blue jeans and white shirts.  Line up tallest to shortest and hold the signs.  Have a friend take the picture or use a camera with a timer.
Stairway pose- Use the stairs in your house if you have some or take advantage of steps at some other pretty holiday location.  Have everyone wear red shirts and black pants.  Shoes will be visible in this picture, so black dress shoes would work best.  The tallest person can be on top or bottom.  If there is a very young child, you might want the tallest person on top so that the second shortest person can hold the baby in front of them.  Everyone line up on the stairs, making sure that your head is visible over the person in front of you.  Have a friend take the picture or use a camera with a timer.
Beachy delight- If you live by the beach, or you think about this ahead of time while you are at your favorite beach, you can shoot this picture and use it for your Christmas photo.  Everyone needs to wear jeans and roll them up like you have been wading in the water.  Button up chambray shirts left open over white T-shirts or tank tops on top are a good option to pair with rolled up jeans.  Don't wear shoes, but have everyone wear a Santa hat.  Try to have someone shoot a few different shots.  Casual shots of everyone walking along the water are pretty, or you can pose together with the water as the back drop.
All tied up- This is a kids only picture and works best with only two kids.  Dress the kids in their Christmas pajamas and Santa hats.  Put them in chairs back to back.  Put green painter's tape over their mouths (nothing too sticky).  Have them clasp their hands together in their lap and then wrap strings of Christmas lights around them.  Make sure to do at least one wrap around their legs and hands.  For this one you must have a sense of humor.  Looks like Santa caught some spies!
It's a wrap- Take a box large enough for all of the kids to fit in.  Wrap the box with solid red or green wrapping paper and some festive ribbon, leaving the top open.  Try to keep the patterns simple so as to not distract from the kids.  Put Santa hats on all of the kids and have them peeking out from inside of the box.  You can decide whether you want to see just their eyes and fingers or their whole heads.
Use your creativity and come up with your own funny Christmas pictures.  Break away from the same boring posed pictures with mom and dad in the back and the kids standing in front of them.  The crazier the better – your family and friends will love it!
← 10 Tips for Parents Hiring a Nanny Online | 10 Reptiles That Make Great Pets for Kids →
Comments are closed.
DIY & Sign up Online
We have partnered with eNannySource to help you search for the perfect nanny in your area in addition to our other services.
Enter your zipcode to get started:
National Nannies History