← Is the Bedtime Story a Dying Art | When Children Get Hurt in Their Nanny's Care →
10 Spanish Words Kids Learn from Watching Dora the Explorer
September 2, 2012

| in Nannies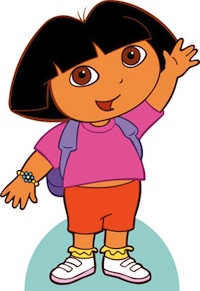 Pint-sized, animated seven-year-old Dora Marquez has been coming into living rooms since 2000, teaching children her signature blend of morality, adventure, and Spanish vocabulary words via the hit cartoon series Dora the Explorer. As one of the most successful children's shows on television today, Dora the Explorer has generated an estimated three billion dollars in merchandise around the world and won the hearts of a generation. If your little one is a Dora fan, here are 10 of the Spanish words he's likely to learn from her.
"¡Hola!" – This friendly greeting, which translates to "hello!" in English, is one of the many words that kids pick up from the gregarious Dora.
"Amigos" – Dora's friends, or "amigos," are by her side through all of her many adventures, helping her to achieve her goals and complete her quests. Boots the Monkey is Dora's best amigo, offering his assistance in solving puzzles and figuring out clues.
"la Familia" – From her cousins Diego the Animal Rescuer, Daisy, and Alicia, to her beloved Mami and Papi, Dora Marquez's family is a big part of her life. Diego has proven to be such a popular member of Dora's familia that he became the star of his own show, Go, Diego, Go! in 2005.
"Abuela" – Abuela, Dora's grandmother, is featured prominently in the show as Dora visits her often. Because Abuela is Mami's mother, she isn't Diego, Alicia and Daisy's grandmother; Abuela is one of the recurring characters popular enough to be the subject of merchandising in the form of toys and books set in the Dora universe. While kids learn the Spanish word for their own grandmothers, they're also learning a bit about family dynamics and relationships.
"las Estrellas" – Spanish for "stars," Backpack's Star Pocket stars are referred to as Estrellas on many occasions. Kids also learn the Spanish word "¡delicioso!" from Backpack, who receives items placed inside with the phrase, "Yum yum yum yum yum, ¡delicioso!"
"¡Espera!" – The Spanish word for "wait" appears in Dora's vocabulary quite often, ostensibly because rushing headlong into her many adventures would be reckless. Children that are big fans of Dora are likely to learn "espera" early on, and use it often.
"Azul" – The first Spanish word taught to English-speaking audiences by Dora the Explorer was "azul," which means "blue" in Spanish. This word began Dora's tradition of helping kids learn basic vocabulary along with the action verbs that are her trademark, seamlessly integrating Spanish words in a way that helps kids who are already learning basic language skills absorb foreign words alongside more familiar ones.
"¡Lo hicimos!" – English-speaking parents are often baffled by the phrase uttered in Dora the Explorer theme song; kids know that she's crooning "¡Lo hicimos!" which means "we did it!" "Swiper, no swiping, Swiper, no swiping (oh, man!) Dora the Explorer, ¡lo hicimos!"
"¡Cuidado!" – Another cautionary word from our tiny, animated adventurer, "¡Cuidado!" loosely translates to "look out!" It's no surprise that Dora and her amigos need to warn each other, as they traverse the landscape to complete one quest after another.
"¡Vamonos!" – "Let's go," indeed! Dora spends a lot of her time on the go, and teaches all of her viewers that speak English as a first language how to get people moving, too. In addition to teaching kids the importance of doing the right thing and helping those in need, Dora's enthusiasm for seeking out physically active adventures emphasizes the importance of getting off the couch and into the world. Dora Marquez definitely doesn't subscribe to a sedentary way of life!
Dora, along with her best friend Boots, cousin Diego, and the antagonist Swiper have starred in more than 140 episodes of Nick Jr.'s highly-rated series, and have helped millions of children around the world acquire second language skills. Interestingly enough, Dora only helps children in English-speaking countries learn Spanish; in other countries, she's accepted as an American girl, with the majority of dialogue in the country's native language and her Spanish-language beats substituted for English.
← Is the Bedtime Story a Dying Art | When Children Get Hurt in Their Nanny's Care →
Comments are closed.
DIY & Sign up Online
We have partnered with eNannySource to help you search for the perfect nanny in your area in addition to our other services.
Enter your zipcode to get started:
National Nannies History