← A Mom's Guide to Balancing Work and Family | 16 Blogs that Will Make You Laugh with Funny April Fools' Day Pranks →
10 Reasons Why You Should Consider a Flash Mob Marriage Proposal
February 18, 2013

| in Nannies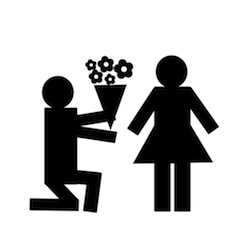 There's something about a flash mob that makes every big moment better, which may be why they're now regularly used for everything from product promotion to issue awareness. While some flash mobs create chaos and promote vandalism, the vast majority are feel-good affairs that leave both participants and onlookers with a smile. One trend, the flash mob marriage proposal, is rapidly gaining ground with young adults looking to start a life with the one they love. If you're thinking of ways to pop that all-important question, here are 10 of the reasons why you may want to consider doing so with a flash mob.
Originality – Flash mob proposals may be more popular than ever, but they're still an intensely original statement with plenty of room for personalization. Use songs that are meaningful to you and your beloved, integrate references that hold special significance for the two of you and enjoy the feeling of knowing that your proposal was completely original.
Make it Memorable – Getting engaged is one of the most exciting moments of your life, and is an event that you'll want to remember in perfect detail. Few things are as memorable as the full-scale production that is a flash mob marriage proposal, making it a great way to establish a memory the two of you will always cherish.
Involving Your Loved Ones – Strategically hiding your nearest and dearest in the flash mob before your proposal allows those closest to you to be intimately involved in one of the most important questions you'll ever ask another person. Including the people that you and your partner love most allows them to be present for the proposal, something that may not happen in more traditional proposal scenarios.
Making Your Love Go Viral – If you're itching to pop the question and have an abiding desire for YouTube fame, you can combine the two in a way that takes your changed relationship status to a viral level. Placing a camera or two in the crowd not only allows you to preserve the moment for posterity, but also to share it with the world at large.
The Element of Surprise – Flash mobs are a surprising sight on their own. When you stage a flash mob that also serves as a proposal party, you're significantly amping up the element of surprise and making sure that your beloved is swept away in the moment.
Go Big or Go Home – Proposing marriage via flash mob is a major production and one that definitely lives up to the "go big or go home" mentality of today's generation of young adults. If you're looking for a big, bombastic way to pop the question, there's no denying the power of a flash mob.
Making a Public Declaration of Your Commitment – Your wedding ceremony is a promise shared in the presence of those you love to share your life with another. What better way to cement that commitment than by proposing it in the most public fashion imaginable?
A Story for the Grandchildren – Lovebirds looking for an exciting and impressive proposal story to share with the generations of new people they produce would be hard-pressed to top the romantic tale of a flash mob proposal.
A Priceless Reaction – When you drop to one knee and present that rock, the look on the face of your beloved is sure to be one you'll remember for the rest of your life. When the big question is immediately preceded by a flash mob of excited participants, however, that reaction will be amplified exponentially.
Ensuring a "Yes" – It may be a relatively cheap tactic, but ensuring an affirmative answer to your question is far easier when you're both surrounded by a crowd. Who could turn down such a grand, romantic gesture in front of so many onlookers? If securing a "yes" is an at-all-costs priority, a flash mob proposal is almost impossible to turn down.
Gone are the days of proposing at a sporting event in hopes of landing on the big screens; these days, a truly trendy public proposal requires a choreographed dance routine and plenty of participants. Because you won't want your big day to be foiled by a visit from the police, though, you'll want to make sure that you secure all the necessary permits or consult with a legal professional to ensure that you're staying within the confines of the law. Good luck and congratulations!
← A Mom's Guide to Balancing Work and Family | 16 Blogs that Will Make You Laugh with Funny April Fools' Day Pranks →
Comments are closed.
DIY & Sign up Online
We have partnered with eNannySource to help you search for the perfect nanny in your area in addition to our other services.
Enter your zipcode to get started:
National Nannies History