← 10 Facebook Status Updates from The Ugly Duckling | 10 Great Toys for Sight Challenged Kids →
10 Great Toys for Hearing Challenged Kids
June 12, 2012

| in Nannies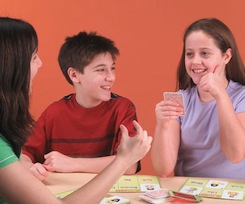 If you've ever bought a toy for a child, you know it's no easy task.  You have to consider what are they into, what they already may have, how old they are and what types of toys are age-appropriate, among a slew of other things.  When you're buying a toy for a child who is deaf or hard of hearing, you need to take those same things into consideration as well, in addition to their hearing impairment, which can be an intimidating undertaking.  Worry not, though, because there are a great many toys on the market for hearing challenged kids.
Keep this list around for the next time you are in search of the perfect gift for your hearing challenged little friend.
See it and Sign it: An educational game that teaches the child to sign.  With any child toys offer a great way to reinforce what they are learning and by having this game they can have fun while they are reviewing their signs. The See it and Sign it toy comes in two levels so that as they gain experience they can learn even more words to sign.  The See it and Sign it 2 even has Spanish translations.
Sign Language Peg Puzzle: This fun puzzle allows the child to practice recognizing their sign language letters while working on their coordination by putting the pieces into the board.  The colors are bright and fun and could even be used to spell short words.
Food Fun Flash Cards:  Food Fun Flash Cards are bright, entertaining flash cards with pictures of food on one side and the sign for that food on the back.  These cards will help the child learn and practice signing food words.
Cloud b turtles: Just the cutest plush toy with a hard shell, these turtles are available in different colors and they do different things.  One has a light that projects constellations through its shell, and another shows soothing water images for bedtime.  The turtles feature an auto shut off after 45 minutes so that you can feel good about walking out and leaving it on.  It's also educational because there are 8 actual constellations shown and a book that comes with it explaining what each constellation is.
Sign-O Bingo: This is a computer game that offers a new twist on an old favorite by using sign language to play Bingo.   You can practice signing or just use the signs you already know.  This is a fun way to teach signing to friends and family in a fun and non-stressful way.
Play-doh: It can be purchased almost anywhere and it's inexpensive.  Play-doh is very tactile and comes in bright colors.  Because it's a toy that is focused on touch and sight, the child won't miss out on any features and will still engage other senses.  Some play-doh even comes in scents now and this would add a great extra feature for kids that are deaf or hard of hearing.
Doll house or barn: These kinds of toys can be found anywhere and are fun for all kids.  This kind of imaginative play will help them learn to play socially with other children.  They can make up any type of scenario they want when playing with a doll house or a barn.  The colors of the doll houses are often bright and colorful as well which appeals to hearing challenged children as well as all kids.
Balls: Again, a very basic toy and there's nothing very magical about them, but balls provide opportunities to works on hand/eye coordination and to encourage exercise.  Children can throw and catch the ball with a friend or parent.  Balls that have a fun texture or lights are even more fun because they bring in more senses.  This is important for a child who has lost a sense or has decreased ability with it.
Mini-Rib it Ball: This toy is great for all kids, but especially good for those that are hard of hearing because there's a pull string on it that makes the ball vibrate.  The ribs on the Mini-Rib it ball will crinkle so if they are hugging it close they might be able to hear the crinkling.  The ribs can be chewed on during teething and they make the ball easy to catch when you start throwing the ball back and forth.  It's soft so it won't hurt if you miss it.  
Fingerspelling Blocks: One thing that might not occur to everyone is that when learning to fingerspell, it's often hard to see the hand all the way around.  Yes, they can picture the front and the back of the hand, but it not the same as being able to see the hand in 3D and to be able to touch and feel it.  The Fingerspelling blocks are a bit of a splurge at $150, but they can be so worth it.
Good luck and happy shopping. 
← 10 Facebook Status Updates from The Ugly Duckling | 10 Great Toys for Sight Challenged Kids →
Comments are closed.
DIY & Sign up Online
We have partnered with eNannySource to help you search for the perfect nanny in your area in addition to our other services.
Enter your zipcode to get started:
National Nannies History