← How to Connect with Your Baby When Away on Business and Miss Him | A Mom's Guide to Balancing Work and Family →
10 Famous Moms with Nannies
February 10, 2013

| in Nannies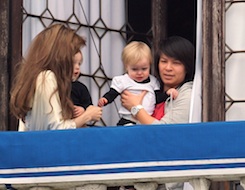 With society trending towards the ideal of two full-time working parents and the increasing demand of a fast paced culture, more and more parents are looking to nannies to fulfill their childcare needs. Nowhere is this trend more apparent than in Hollywood, where over-scheduled celebrities with big budgets rely on a troupe of nannies to look after their children and households while they're on location or touring the world to perform. In addition to their personal chefs, housekeepers, drivers and personal assistants, it has become increasingly popular for celebrities to bring multiple nannies on staff to manage the care of their children. Aside from entrusting their children's lives to the care of beloved nannies, they also place a lot of trust in those nannies' ability to be discreet. With their multi-coastal estates, jet-setting careers, crazed paparazzi and fanatical followers, celebrity moms still manage to make it look easy. Fortunately, they have the trusted help of Hollywood's best private childcare providers at their disposal.
Angelina Jolie-Pitt – With Angelina and Brad's growing brood, the couple utilizes the help of numerous nannies. Anywhere between six nannies is normal for the famous parents during a regular day, presumably one for each child, and up to 12 during holiday vacations. Their nannies are required to speak multiple languages, including the native language of the child they're caring for, hold a college degree in education or child development and be willing to travel to between their US homes and internationally as well.
Jennifer Lopez – Jenny from the Block proudly stands with the growing number of celebrities that opt for nannies of their own flesh and blood. Jennifer's mother, Guadalupe, acts as a live-in nanny for twins Max and Emme. The trend of relatives-as-nannies is gaining traction with the Joe Normals of the nation, but celebrities aren't strangers to family care either.
Christina Aguilera – While Christina does have a nanny who works alongside her own mother, she also relies upon her ex-husband's parents for childcare whenever possible due to trust issues stemming from her own childhood.
Julia Roberts – In an interview with Access Hollywood, Julia Roberts stated she wouldn't have been able to travel while shooting the film, "Eat, Pray, Love" without relying on a "village" to help take care of the kids while on location.
Heidi Klum – Even though nannies are not highly advertised or photographed in Hollywood, this TV host, model and mother of four has made no attempt to hide that fact that she employs up to three nannies at a time.
Gwyneth Paltrow – She enlists the help of a former maternity nurse and published author and expert of child-rearing to help care for her children as she maintains her acting career and the Goop empire. Paltrow has been very open about her insistence on employing more than one nanny since the birth of her first child, daughter Apple.
Nadya Suleman – Between allegations of an ex-nanny's obsession with her oldest son and a dubious career in porn, Octomom Nadya Suleman is no stranger to the lurid side of the spotlight. While TMZ reported in 2012 that her three nannies insisted that her 14 children were "behaving like angels" during Suleman's stint in rehab, they also assert that maintaining order was easier when Octomom was out of the way!
Princess Di – The late Princess Diana enlisted the help of one nanny, Olga Powell, to help raise her two little princes, William and Harry.
Elizabeth Banks – The wacky funny lady and character actress may have received rave reviews for her turn as Effie Trinkett in The Hunger Games, but she's also been under fire from moms for her complaints about the difficulty of caring for her children during a no-nannies vacation.
Britney Spears – When allegations of methamphetamine use were leveled against the troubled pop princess, a former nanny came to the rescue with sworn testimony that she never saw drugs in her employer's house during her well-documented struggles.
Life as a celebrity may seem like a cakewalk on the surface, but Hollywood's finest have to be on call and ready to shoot off to an interview, photo shoot or audition at a moment's notice. Plenty of celebrity moms catch flak for employing an army to look after their children, but such a large staff is often required for security reasons as well as childcare. This need for heightened security is a contributing factor to the rise of male nannies, or "mannies," amongst celebrity parents.
← How to Connect with Your Baby When Away on Business and Miss Him | A Mom's Guide to Balancing Work and Family →
Comments are closed.
DIY & Sign up Online
We have partnered with eNannySource to help you search for the perfect nanny in your area in addition to our other services.
Enter your zipcode to get started:
National Nannies History