10 Lessons Kids Can Learn From Richie Rich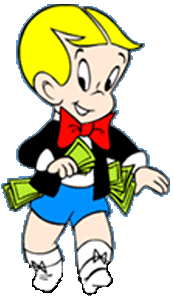 Richie Rich started his life as a supporting character in the Harvey Comics universe, eventually becoming the most popular in their roster, the star of two separate animated shows and two live-action feature films. In all of his incarnations, Richie Rich is a treasure trove of life lessons. Here are ten of the lessons that young fans can learn from him and his adventures.
Money Can't Buy Everything – Though Richie Rich has everything money can buy, he knows that the most important things in life can't be purchased. Watching Richie try to make friends in his film incarnation is a great way for kids to learn that money isn't everything.
Some Things Are Priceless – In Richie's first cartoon series, the episode "The Poor Little Richbillies" chronicles some money-poor, but land-rich, relatives who refuse to sell, no matter how high the offers go. This example of sentimental value versus financial gain is worth a king's ransom for youngsters.
Most Stereotypes Are Untrue – While most wealthy children are portrayed as spoiled and selfish, Richie Rich can serve as an example that not all, or even most, stereotypes are true. His good-natured sweetness proves that everyone must be judged for themselves, not their class or circumstances.
Good Friends Are the Greatest Treasure – Despite having "two of everything," Richie Rich knows that his greatest and most valuable treasures are his friends, family and loved ones. This lesson in appreciating those that matter in your life can never come too early in a child's life.
If At First You Don't Succeed… –  The eventual success that Richie Rich enjoyed was due, in part, to the perseverance of the team that created him. After a few less-successful-than-expected attempts at stardom, Harvey Comics executives were ready to relegate him to the background of more popular vehicles; writers convinced them to give Richie one more try, and the rest is history.
Working as a Team Makes Everyone More Effective – For a valuable lesson in teamwork, kids only have to look as far as the Richie Rich and Scooby-Doo Hour, a block of programming shared by these two Hanna-Barbera powerhouses.
Even the World's Richest Kid Came From Humble Beginnings – Though he's now known as the World's Richest Kid and was once played by the hottest child star of his era, Richie Rich began life as a peripheral character in the first Little Dot comic.
Critics Don't Know Everything – Proof that those who criticize you don't know everything: upon the release of the full-length live-action feature film, critics immediately panned Richie Rich. The box office earnings left the film two million dollars short of recouping the budget; however, VHS rental revenues skyrocketed, bringing in $125 million.
The Villain Can Be Defeated – Through hard work and a little help from his loved ones, Richie Rich proves to kids everywhere that the villain can be defeated. This lesson is one that is sure to help kids get through their own inevitable tough times.
Altruism is a Gift – Of all the things Richie Rich is fortunate enough to have, kids watching his shows and films can learn that the most valuable is his altruistic, philanthropic nature. The desire to do good for people for the sake of doing good alone is a very rare and valuable trait.
Richie Rich, as a character and a cartoon, has many lessons available for children to take in, as they enjoy the story lines of fun-filled adventure that provide good old-fashioned entertainment.
DIY & Sign up Online
We have partnered with eNannySource to help you search for the perfect nanny in your area in addition to our other services.
Enter your zipcode to get started:
National Nannies History